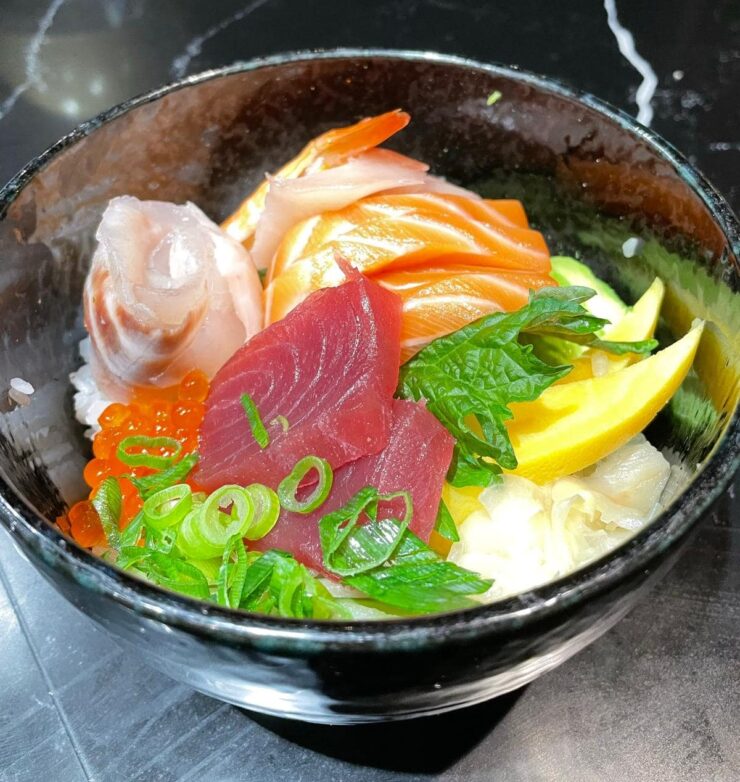 Finally, the first long bank holiday weekend of the year is nearly upon us! The perfect excuse to gather friends and family together to celebrate the long Easter break, and warmer times to come!
And what better dish to choose than our Chirashizushi – a favourite dish on the menu and a go-to in Japan for special occasions and sharing happy times.
Chirashizushi – which literally translates to 'scattered sushi', is full of colour and full of the freshest sashimi. This seasoned sushi rice dish is also topped with vegetables such as mooli and spring onion, shiso leaf, plus pieces of tomago (Japanese rolled omelette), then garnished with small amounts of wasabi, pickled ginger, and soy sauce.
You'll find plates of chirashizushi on the table at many special occasions in Japan, from National celebrations to birthdays and holidays, plus it's a popular dish for picnics and outdoor events.
In Japan, the ingredients used to make chirashizushi can vary depending on both the region and the season, and many areas have their own special version.
In the Kanto region – the eastern part of Japan's main Island, Honshu, which includes Tokyo, chirashizushi is typically made with a variety of toppings, including cooked prawn, unagi (eel), and ikura (salmon roe). The ingredients are often arranged in a circular pattern, with the rice in the centre.
Kansai, the western region of Honshu known for its food and culture credentials, prepares their chirashizushi with sweetened egg, pickled vegetables, and kinshi tamago (shredded egg crepe) as the topping.
In Hokkaido, the northernmost island of Japan, chirashizushi is often made with fresh seafood such as sea urchin, salmon, and crab, arranged in a decorative manner to highlight the natural colours and flavours of the seafood.
In Kyushu, Japan's third largest island, chirashizushi is made with vinegared rice, raw fish, tamago, and shiitake mushrooms. The dish can often have a slightly tangy taste due to the use of vinegar.
At KIBOU our sushi chefs always select the freshest sashimi to adorn our chirashizushi bowls, and the most colourful garnishes. From ebi (prawns), salmon, tuna, sea bream and hamachi and ikura (Japanese caviar), to red amaranth, shiso, pickles and edible flowers.
It's a great dish to share if you're after a bit of everything – and a wonderful centrepiece for any special occasion.
Why not book your table and share the good times (and a Chirashizushi) with us!