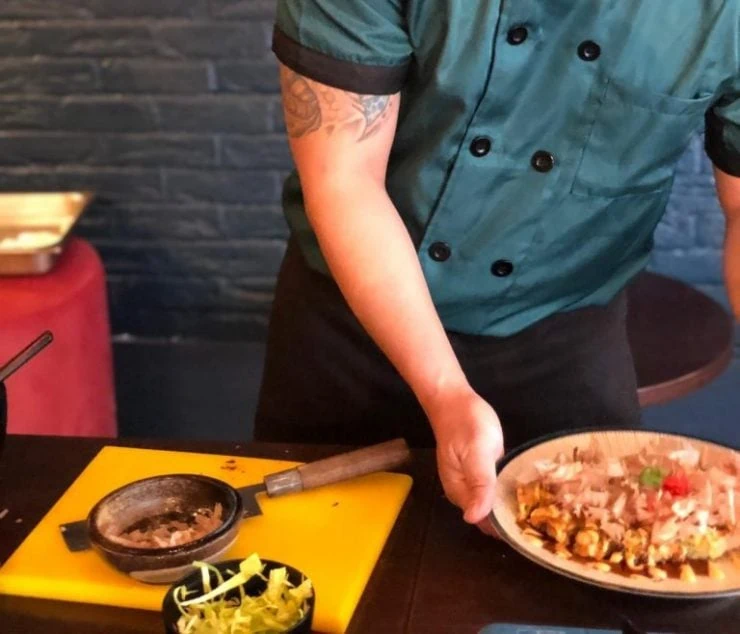 Pancakes aren't just for pancake day if you live in Japan, their special savoury pancakes, or 'okonomiyaki' are enjoyed right across the country, all year long.
They're a staple street food, but particularly popular in the cities of Hiroshima and Osaka, with each serving up and devouring their own distinct version.
If you're not familiar with an okonomiyaki, it's a savoury pancake containing a variety of ingredients and makes a delicious alternative to our traditional lemon and sugar. The name is derived from the word 'okonomi' which literally means 'to one's liking', and 'yaki' meaning 'grilled', as this dish is traditionally cooked on a flat griddle.
Kansai- or Osaka-style okonomiyaki, which is pretty much the most popular version out there, is made up of batter containing water or dashi, with egg, shredded cabbage, onions and a variety of toppings… that's the 'okonomi' part, just pick the toppings you like the most!
"Osaka soul food" at its best!
Why not have a go for yourself by following our recipe below.
Ingredients:
To make the tempura batter
100g okonomiyaki or plain flour
100ml water
Set aside
To make the pancake
30g minced beef – cooked (pan-fried)
1 egg
15g shredded pickled ginger (beni shoga)
15g chopped spring onion
2 tbsp tempura flakes (tenkasu)
50g shredded cabbage
1 tbsp dashi (omit if you don't have to hand)
Vegetable oil for frying
For the topping
Mayonnaise
Okonomiyaki sauce (if cannot find in stores, substitute with 1.5 tbsp sugar, 2 tbsp oyster sauce, 4 tbsp ketchup, 3.5 tbsp Worcestershire Sauce)
Aonori (dried seaweed powder) – or shredded crispy nori seaweed sheet as an alternative
Handful bonito flakes (katsuobushi)
Pickled ginger (beni shoga)
Spring onion
Alternative topping suggestions:
Streaky bacon
Prawns
Squid
 Cheese
Method:
Firstly make the tempura batter by mixing together the flour and water, then set aside.
Slice the cabbage, spring onion and pickled ginger into fine pieces, add to bowl.
Add the cooked mince and tempura flakes and combine.
Pour in the tempura batter mixture and the egg, then mix all the ingredients together.
Heat up a frying pan or hotplate with a little oil on medium to high heat.
Pour in the okonomiyaki batter and flatten out the mixture.
Place a lid on the pan and cook the pancake for 3-4 minutes until the bottom is light brown.Remove from the heat and carefully flip the pancake over.
Return to the heat, cover, and cook for a further 4 minutes.
Once cooked, remove and place the okonomiyaki on a board or plate.
Slice into portions, then dress the dish with lashings of okonomiyaki sauce (see substitute ingredients above if you want to make your own) and mayonnaise. Sprinkle with bonito flakes, aonori (dried seaweed powder), and a portion of pickled ginger and spring onion.
Serve hot, straight away, whilst the bonito flakes dance and glisten in the steam!