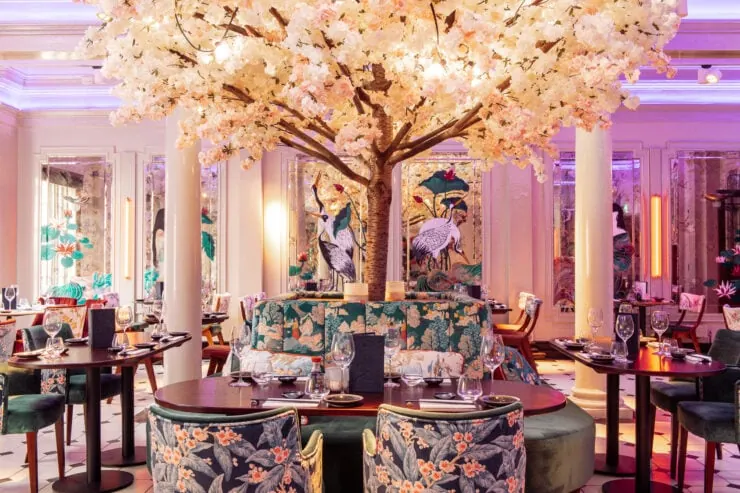 We're delighted to announce the opening of our 5th and largest KIBOU restaurant and bar today (Monday 7th August) in the bustling city of Cambridge. Located in the former Pizza Express site within the characterful Grade II listed building at 7a Jesus Lane, home to the Pitt Club, the restaurant benefits from a major redesign by Cheltenham-based architects, Q&A Interior Design Ltd, alongside the creative talents of Gloucestershire illustrator, Martyna Sabadasz.
Incorporating our trademark murals, stunning Japanese floral and foliage installations, iconic Japanese block print textiles and an eclectic range of wallcoverings, the restaurant glamorously displays an artistic appreciation of Japan within chic and decadent surroundings.
Cleverly structured to create a range of intimate and individual drinking and dining areas, the restaurant includes 2 beautiful dining rooms; the Mirror Room, bestowed with colourful, reflective murals positioned around a central Japanese cherry blossom tree, and the Oak Room, which includes a large, eye-catching wisteria installation and a vibrant digital animation display. The central area of the restaurant also includes an open sushi and hot kitchen, cocktail lounge area, additional seating, and a standalone spirits bar.
The menu continues the theme of lavish attention to detail, with work of art mixed sushi and sashimi sharing platters, including our 20-piece luxury 'tokujo moriawase', and premium A5 grade Japanese Joshu wagyu, alongside a range of other classic and contemporary Japanese dishes. Expect to find steaming bowls of ramen, made with pork, chicken or vegan broth, crisp tempura, a selection of pillowy steamed bao buns and our signature handmade spiced pork gyoza.
We'll also be offering our signature range of Japanese-inspired cocktails, no-and-low options, an ambitious selection of Japanese whisky, sake and umeshu, Japanese-brewed beers and an extensive fine wine list.
Commenting on the new site, Ellie Banfield, General Manager at KIBOU Cambridge says;
"We're so excited to finally be able to open the doors of KIBOU, and to show residents and visitors to Cambridge all that we've been up to behind the scenes at Jesus Lane. The venue has had a total transformation, and I'm loving seeing people's first reactions when they step into the place.
I've also loved the enthusiasm and support that we've had during the run-up to opening, both from prospective guests, and from the new team that we've hired from the local area. Like me, they're just bursting to see the restaurant now in full swing, and to bring our vibrant and contemporary slice of Japan to this bustling city."
Jay Roehl Manglicmot, Senior Head Chef at KIBOU Restaurants Ltd adds;
"We can't wait to bring our flavour of Japan to Cambridge, and to discover which dishes are most popular here. Our menu includes a wide range of classic and contemporary Japanese dishes, each served from a dedicated hot or sushi kitchen. From our labour of love ramen, which we simmer for hours for that signature umami-rich, heart-warming broth, to our A5 Joshu wagyu beef, which we source directly from Japan's Honshu Island. As a team, we're passionate about sharing our love for Japanese food, and alongside our main menu, we'll also aim to bring a range of specials to the table to really showcase the talents from our kitchen."
To book your table and to be the first to experience KIBOU Cambridge, just hit the link below.